<About AVAR , citied by AVAR>
(Association of anti Virus Asia Researchers International Conference)
AVAR is a non-profit organization whose primary objective is to prevent the spread and the damage caused by malicious code. AVAR now comprises members from 15 countries/regions, not just from the Asia pacific area, but from all over the world.
This demonstrates that the anti malware research activities of AVAR have extensive support from many countries, corporations, and individuals. In the past years, we have been facing a new era in internet security. The objective of malicious code has changed to its use as a tool to steal corporate secrets and private information. To prevent such crimes, AVAR 2007 will provide possibly the best opportunity to learn about the latest anti malware technology and discuss the major issues in worldwide information security technology. I hope you can join us and benefit from this conference. I look forward to meeting you at AVAR 2007 in Seoul, Korea.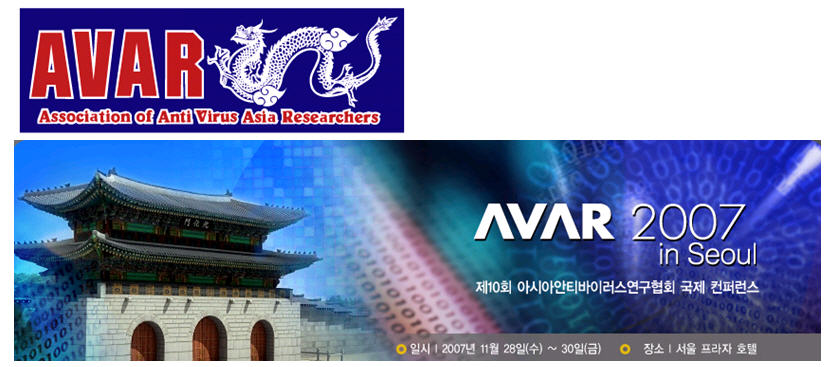 http://www.aavar.org/avar2007/index.html


<The Paper that I spoke on the Conference.>
Title : Hackers are storming : New Attack Trend in Online Game Security Area.
Deokyoung Jung & Howoong Lee AhnLab Inc.

Abstract:
After the popularity of the internet, hackers have expanded their attacks in a variety of ways, one of the areas is online games, for fraudulent gain.
In Korea, due to the prevalence of internet, the Korean culture of online gamming and the appearance of the pro-gamer, there has been an explosion of online games.
The results are virtual game moneys or items in the case of MMORPG(Massively Multi-player Online Role Playing Game) are being treated as real money, resulting in a new kind of market where hackers have now turned their attention.
They now use their skill in malicious way to profit illegally.
The game companies are baffled, amongst others by, unfair play by game-hackers using special tools against the ordinary users who may quickly loose interest in specific games. Even though game software companies use intricate designing, hackers can still jeopardize the longevity of games. Some hackers maliciously steal software information such as personal information, so that those companies loose their reputation and profits.
Previous attacks by hackers were on the general public in a variety of areas, but now game hackers have a specific target in mind viz. game companies, because they can make illegal profits.
In the past generally, hacking was only for fun, but through the confluence of ideas by many kind of hackers, now there is an inter-exchange of ideas such as "Root-kit", "Runtime Packing", "Code-Injection", used by hackers in various ways connecting to problems for all areas of computer security.
Online game hacking has been progressing, inter-related with other malicious code and they will be a source of problem for any security.
We will announce a growth of Korean Online Game Industries and explain social problems of online game hacking, Trends of attack and defense from the perspective of an anti-virus company.
...




<Conference Sketch>